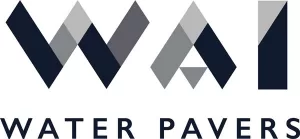 permanent colour
This product is a permeable paver, it is made of 97% recycled porcelain floor tiles. They are sintered
zero run off
Storing up to 11L/m2
The water will transpire back into the atmosphere
Durable
At 40 mpa. This makes them trafficable
Because the product is porcelain it is colour fast and doesn't need sealing

Wai Pave permeable pavers offer an exciting new solution when it comes to preserving the environment, managing storm water and maintaining natural cycles.
Less Pressure on drains: Rain water passes through Wai Pavers at a rate of up to 660mm per hour with ZERO run off, assisting in reducing surface flooding and the burden excessive water can cause on storm water drains.
Temperature reduction: Able to reduce surface heat by up to 10 degrees (C) or more.
Specific water catchment or retention requirements? Horizon can provide a fully engineered turnkey design and build solution. Please discuss with the team and we can work together to resolve the issue.
TECHNICAL SPECS
Permeability rate:
Coefficient of Friction (COF):
Cubed Compressive Strength:
Water Retention:
600 mm per hour
P4
46 MPa
11 litres/m2
Stocked sizes (mm):
200 x 100 x 55
400 x 400 x 55
600 x 300 x 55
Other sizes available:
300 x 150 x 55
400 x 200 x 55
300 x 300 x 55
100 x 100 x 55
Horizon International Ltd has been supplying innovative paving solutions to New Zealand for over 35 years. Experts in both commercial and residential applications from airports, city centres and high traffic walkways, to driveways and residential outdoor living spaces.